India agriculture export ,Plant quarantine, India export regime, National Plant Quarantine Organisation, DPPQS, NPPO, Agriculture commodities, Policy changes plant quarantine laws, canadian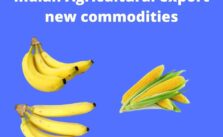 several regulations that prevent export of various commodities form India to foreign nations especially to US and Canada. One of the most important among this regulations is the one on plant quarantine and several negotiations between National Plant Protection Organisations of India and Canada on market access for Indian Banana and Baby corn resulted in Canadian market access for these commodities which was earlier not accessible.
The meeting was held between Shri Manoj Ahuja, Secretary (DA&FW) and H.E. Cameron MacKay Canadian High Commissioner on the 07th of April. Canada informed that export of fresh baby corn from India to Canada may begin from April 2022 after updating directive D-95-28: Plant Protection Import and Domestic Movement Requirements for Corn and the Automated Import Reference System (AIRS).
Immediate entry for banana India agriculture export
According to the technical information provided for fresh banana by India, Canada has approved, banana for entry into Canada with immediate effect.
Boost Income of Indian farmers and India agriculture export
This is a welcome move for India's banana and baby corn growers as they can earn higher value for their products and in turn good for the Indian economy. Also this move will enhance India's export earnings.
Check out these exciting articles
Exotic plant diseases introduced to India from other countries Link