Please follow and like us:
Objective Agriculture by S R Kantwa – download as pdf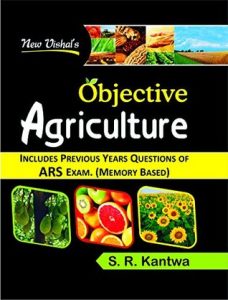 The main objective of this book is to help the readers to quickly grasp the facts comprehensively and systematically from various branches of agriculture like Agronomy, Soil Science, Plant Pathology, Entomology, Genetics and Plant Breeding, Agriculture Economics, Agricultural Extension, Agricultural Statistics, Plant Physiology, Horticulture, Animal Husbandry, Veterinary Science, Agriculture Microbiology, Seed Technology, Agricultural Engineering and Fisheries Science. The questions presented in this book are mostly memory based which were asked in various examination. These set of questions will give the candidates an idea about the model question and will help them to be focused. The book includes objective question on various branches of Agriculture; previous years memory based papers of ARS/NET, Agriculture Officer Exam papers etc.
Click here to find your download
Hint Note install telegram and join channel
Please follow and like us: