How to reach IARI/ASRB/NISCAIR
Guide to this article 
Using Ola/Uber app to reach  IARI
From New Delhi Railway station
Where to alight using Delhi Metro
IARI aka Indian Agriculture Research Institute aka Pusa institute established in 1905 in Bihar and later at New Delhi due to an earthquake is a deemed university and is currently the premier institute for Agriculture in India.
IARI is situated within the NCR (National Capital Region) of New Delhi. However it being in such a  pristine area it is not widely known like the IIT's/DU/JNU and many other top campuses.
I have included ASRB, NISCAIR and NPL since all these institutes can be accessed within the campus itself
Using Ola/Uber to reach IARI
Using ola/uber for IARI: You can spare all of this post  if you have a mobile with GPS and a Uber/ola app just point the destination to Dr Rajendra Prasad Farmer Hostel rather than Pusa gate (cause there is  nearly 1.5 Km from the gate to reach hostels and divisions)
Lets get to business
Well as it is in NCR region it can be reached through all means of transportation except waterways (just joking)
How to reach IARI ?
well basically our instinct will be to say "i want to go to IARI" to the cabbie/auto driver and almost 99.99% he would ask you to repeat the place name and to give a description of the place, your bio-data, your certificates and why not your I.D card. So you can spare all of  this by just  telling him the following two words "Pusa Institute" or "Pusa campus"
But beware –> Pusa institute  is also referred to the polytechnic institute that is situated near to IARI and is separated by a gate that is closed and open only to students and two wheelers from 09:00 am to 05:00 pm
By road :
IARI lies on the Dr. K S Krishnan Marg Road (not much useful info coz its a long road)
But if you are taking a cab/auto the other key words are  Golchakkar ke paas, Petrol pump ka samne and East patel nagar bus stand ka just side mein…
IARI/Pusa Institute is situated basically on the Blue Line of the metro station. It is situated  between the intersection of two metro stations – Rajendra place and Patel nagar. Get down at Patel Nagar metro station (if you want a pull rickshaw to drop you at IARI) or at Rajendra place metro station (if you need a e-rickshaw to drop you at IARI)
From the Indira Gandhi International Airport
From the Indira Gandhi International Airport:
Distance from IGI to IARI around -> 15 Km average 
Well cabs are available 24*7 from the airport dedicated to take you to your desired spot but wait. They might charge you exorbitantly if you go to them directly. Instead of this you may use the Airport Prepaid Taxi service situated at either terminals (T1 and T2) just outside the arrival stands. Just say pusa campus and they will give you a receipt and your ride is ready. It costs around 400 rupees (Non A/C)  from the Airport to IARI via the prepaid taxi service.
But through Ola/Uber/meru cabs the rate is a slight higher 450 – 600 or even more depending on the time of the travel.
Metro connectivity is available a dedicated metro called "Airport express line" which charges a bit more is available, but I would recommend this only if you carry light luggage. So the Airport express line is directly connected to Terminal 3 of IGI airport, but normally domestic airlines land at terminal 1/2 or very rarely at T3. So If you land at T 1/2 you must take feeder buses that will transport you to the nearest metro ie Delhi Aerocity which is on the Orange line alight the station and get down at New Delhi metro station ie on yellow line and further alight at Rajiv chowk station and enter to the Blue line (any train towards Dwarka sector 21) and alight either at  Rajendra place or Patel Nagar. later catch a rickshaw towards IARI aka pusa agriculture campus.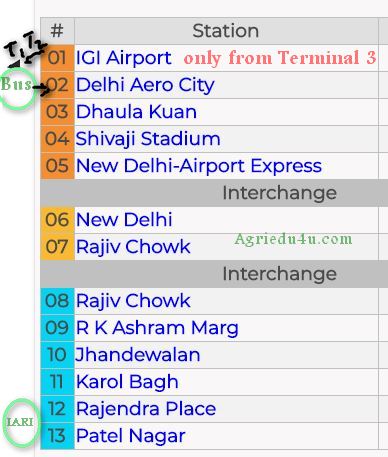 From the New Delhi Railway station
From the New Delhi Railway station :
Well From the NDLS, to  IARI is around 10 Km distance. Better take an Auto rickshaw or a  Cab. Say the magic words "Pusa campus" , if they don't understand just mention near Rajendra place metro , golchakkar and pusa institute , agriculture wala. The Metro is not a bad option because the traffic in New Delhi is quite unpredictable and is quite cheap especially when you have a lite luggage it is the best option. So the nearest metro station near the NDLS  is literally the "New Delhi Metro Station" situated in the Yellow line which is hardly 2 minutes walking from the railway station using Ajmeri Gate side.
From the "New Delhi Metro Station"  travel to "Rajiv chowk" station on the yellow line and then  change into the blue  line  (alight any metro that has end station at Dhwarka Sector-21) get down at Rajendra place /Patel Nagar and catch a rickshaw.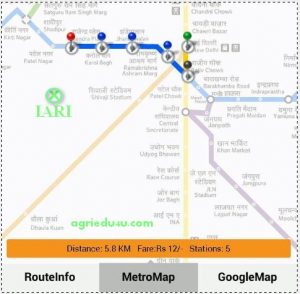 Are you confused comment below what you need to know and we have the answers right away…
Find IARIs latest rankings in top universities in India here 
📌IARI Toppers notes download new Link
Plant pathology notes download here
keywords
IARI, How to reach IARI from new delhi railway station ndls, how to reach IARI from IGI airport, iari new delhi, Iari route, how to get to iari, iari nearest metro station, iari delhi metro