Assistant Agricultural Officer in Tamil Nadu Agricultural Extension Subordinate Service and Assistant Horticultural Officer in Tamil Nadu Horticultural Subordinate Services
Advt Number – 577 Notification – 02/2021
Name of Post – ASSISTANT AGRICULTURAL OFFICER
Number of Vacancies – 106+16
Scale of pay – ₹20,600 to 65,500 (Level 10, revised scale)
Name of Post – ASSISTANT HORTICULTURE OFFICER
Number of Vacancies – 204+103
Scale of pay – ₹20,600 to 65,500 (Level 10, revised scale)

AGE LIMIT (for both posts)
For SCs, SC(A)s, STs, MBCs/DCs, BCs(OBCMs), BCMs and DWs of all Castes  – No Maximum age limit
"Others" [i.e. Applicants not belonging to SCs, SC(A)s, STs, MBCs/DCs,
BCs(OBCMs) and BCMs] – Maximum age limit of 30 years (should not have completed)
EDUCATIONAL QUALIFICATIONS
FOR THE POST OF ASSISTANT AGRICULTURAL OFFICER:-
(i) Must have passed Higher Secondary (plus two) Examination.
(ii)Must possess two years Diploma in Agriculture from the Institutions recognized by the Government of Tamil Nadu or affiliated with the Tamil Nadu Agricultural University; or Gandhigram Rural Institute, Dindigul District; or any other institutions under the control of the Commissioner of Agriculture.
FOR THE POST OF ASSISTANT HORTICULTURAL OFFICER:-

1) A Pass in Higher Secondary Examination
and
2) A pass in the two years Diploma course in Horticulture in the Institutions approved by Tamil Nadu Agricultural University or Director of Horticulture and Plantation Crops or Gandhigram Rural University.
Note:-
1.Degree Holders in Horticulture are not eligible for the post of Assistant Horticultural Officer
2.Two Years Diploma in Agriculture and One Year Post Diploma in Commercial Horticulture are not eligible for this post)
SCHEME OF EXAMINATION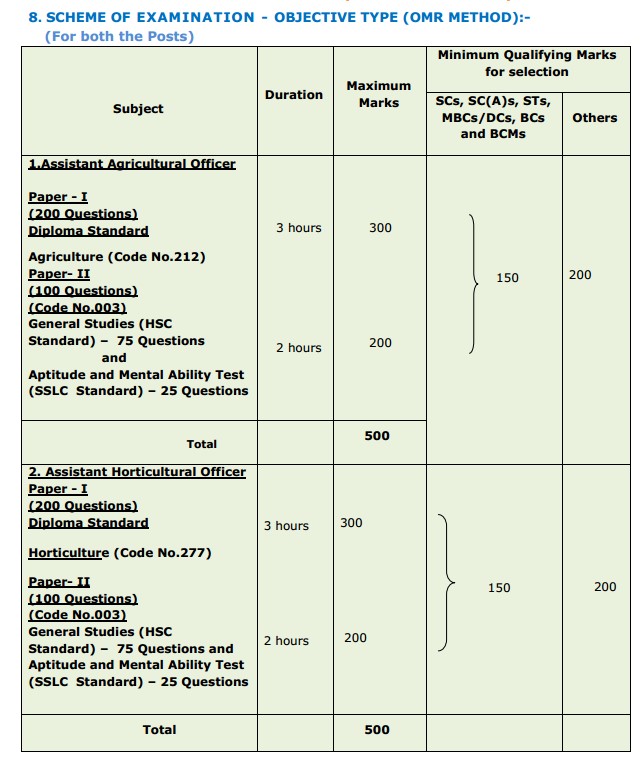 OFFICIAL NOTIFICATION – LINK