Please follow and like us:
Agriculture officer kerala PSC is a competitive exam conducted by the Kerala Public Service commission for recruiting agriculture officers for the Kerala state, India. It is a 100 multiple choice questions to be attended within a time frame of 2 hours. Agriedu4u provides you with the latest mock tests and sources to prepare for the exam in a short time.
How to prepare for agriculture officer Kerala PSC. Basic study materials for agriculture officer kerala psc 2022.
Resources
Package of practices KAU – Kerala PSC PDF download (official link)
Download previous year Question papers at this (AO & AA)
Previous year mock tests here (Link)
Complete Package of practices mock tests (Link)
Varieties released from Kerala (Link)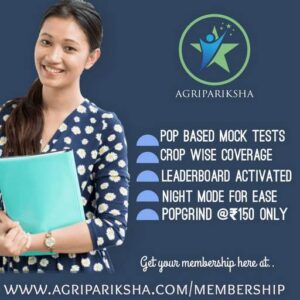 CHOOSE OUR KERALA PSC AGRICULTURE OFFICER POP PACKAGE HERE
Mock test for agriculture officer kerala psc updated for only ₹120 you can attend 5 full length mock tests here. Take membership using this link for agriculture officer mock test and then proceed to attend the full mock tests here at this link now. Mock test package have been dealt in detail in this link in our website you can find it here.
Please follow and like us: